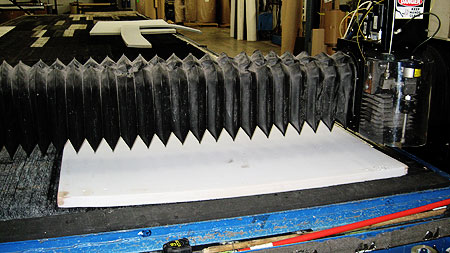 A leader in Water Jet technology production, Industrial Rubber Supply offers the flexibility of producing prototype, short run, or large part orders with amazingly efficient processes.
No longer burdened by prototype tooling or manual hand-cutting, your project can be delivered at the highest quality while drastically reducing delivery time.
Engineered and computerized, water jet cutting provides extremely accurate cuts with a high degree of repeatability over a wide range of materials and shapes. Using Water Jet cutting technology, we can cut any material, from foam to glass, to solid steel. No tooling is required, With the use of our Large Bed 10 ft x 40 ft Water Only Table or our 6 ft x 12 ft Water Only and Abrasive Table, we have the flexibility to suit all your needs.
Revisions are easily incorporated to your existing product with the use of CAD and Sigma Nest software. Simply email your drawings and they can be automatically loaded into your part program.
Industrial Rubber Supply also has the ability to design your project so that various parts being cut can be laid out to produce the best possible yield, thus reducing the amount of material used and saving you money.
Our Waterjet Cutting services are also available to cut customer supplied materials to exact specifications.
Please see the products page for stocked materials available to be Waterjet Cut
Contact our experienced professionals to discuss your project today.